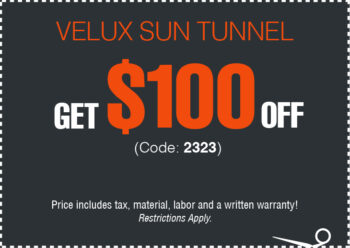 VELUX SUN TUNNEL $100 OFF OFFER, CODE 2323
These Velux Sun Tunnels include all installation and flashing needs, and are a high-quality product with an extra heavy-duty base flasing, leak-proof type of dome, are buf and insect resilient, and are heat transfer/UV ray resistant. Each Sun Tunnel comes with a 2 foot tube, where each additional 2' tube is subject to a marginal materials cost of $75.00. These units are highly reflective and bring in a quality of light that far surpasses a standard acrylic skylight -in both the amount of light allowed into the home and the eminence, without allowing nearly as much heat or UV transfer. All interior trim work and diffuser lenses are included.
Restrictions do apply, and placement is limited to accessibility. Save an additional 10% for each additional Velux Sun Tunnel purchased. Other sizes and types of skylifhts are available upon request, including darkening lenses, roller shades, solar powered options, and roof hatches.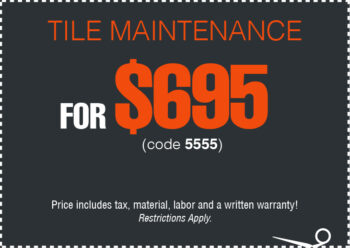 TILE MAINTENANCE FOR $695, CODE 5555
This service includes:
• A replacement of up to 15 field titles.
• A replacement of up to (5) ridge tiles.
• An application of tile adhesive to all hip and ridge tiles.
• A replacement to (3) mortar points (remove existing mortar, seal up underlying area and re-pack with fresh mortar).
• A general weather-seal to all storm collars and roof jacks.
• Remove accessible debris from all valleys, gutters and tile pans.
Restrictions apply, including adhesive work to homes under 3000 sq. ft. and our availability to march your tile perfectly, as many tile colors and molds are no longer in production. We do not assume HOA responsibilities, but if advised of such needs prior to repair we may be able to accommodate.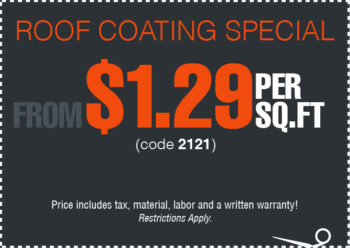 GENERAL SEAL & RECOAT FROM $1.29 PER SQUARE FOOT, CODE 2121
Service includes:
Clean and prepare roof substrate via removing all debris atop rooftop, an application of roof cleanser with power scrub and a pressure sprayed roof cleansing (requires dry-time prior to services to follow).
Provide 3-course roof seals (2 layers of flexible patching compound and 1 application of roofing membrance) to every single roof protrusion (vents, pipes, skylights, exposed ductwork flashings, etc.), all tie-in points/field cracks in need, all perimeter drip edge, etc.
Provide scupper knock down to all drainage areas in need: chip away build-up to promote better roof channeling and patch as needed.
Install tie-tex roof restoration along all cricket valleys: embed polyester membrane in layers of elastometric roof coating where ponding and further roof integrity is required.
Apply heavy flood layer of premium grad elastometric roof coating to all roof surfaces (white or tan).
Provide 'limited 3-year exterior warranty against leaks for all services offered.
Price includes tax, material, labor and a written warranty!
Restrictions apply, including minimum size of a property (must be at least 1500 sq. ft. to qualify for discount); further needs could be discovered upon inspection. We are happy to provide service on a smaller level for a marginal fee.